AUTOMATIC GATE OPTIONS AND OPERATORS
AUTOMATIC GATE OPTIONS AND OPERATORS
If you are considering installing an electric gate here are some options to consider: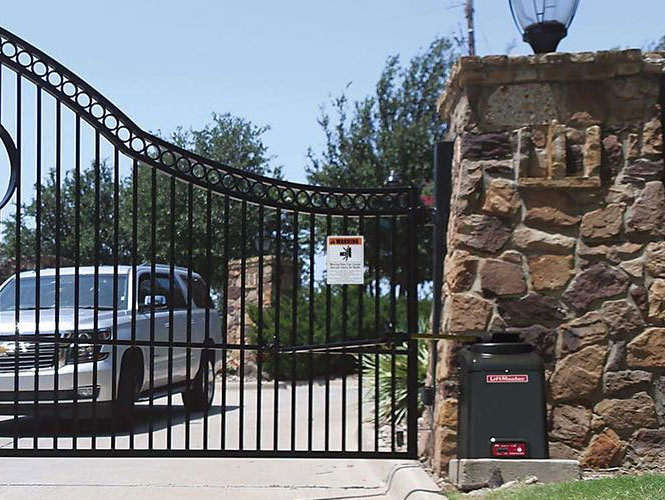 Swing gates
 swing open like the door to your bedroom or bathroom might, simply opening inward or outward. Swing gates can use three types of operators
A swing arm operator, which is a box, that sits on to the side and has an arm extending to the gate.
A ram arm is located on the gate and post and uses either a hydraulic piston or a jackscrew operated piston.
Underground operators are located by the hinge and operate the gate via a link arm.
For swing gates situated on a slope, special hinges are available to install an uphill swing gate.
The name says it all, a sliding gate operator either slides on wheels from the left to right or the right to left, similar to how automatic doors operator at your local grocery store. Sliding automatic gate operators are often installed at the end of a gate in the closed position but are also installed by the end of the gate in the open position. The most common for of automation is a chain attached across the gate on the bottom that passes through the operator mechanism, which moves it back and forth. In the end of the gate/open position you don't see the chain or any operating equipment near the gate. There is a plastic rack attached. Sliding gate operators are often large, heavy and therefore more hazardous than swing gate operators. They can however be equipped with appropriate safety devices making them much safer, and some of the most safe gates on the market.