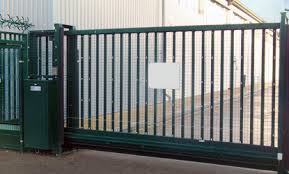 Local gate service specializes in maintenance, repair, and installation of your sliding gate anywhere within the Golden Gate community/Surrounding Bay area. With Sliding Gate Operators, your life is simplified. No need to get out of your vehicle as you will be able to conveniently access your property or business with just the push of a button. Your sliding gate will also increase your property value! 
With Sliding Gate Operators, your gate will slide on wheels to the right or left. Most Sliding Gate Operators have a chain driven system near the bottom or an electric motorized arm.  For the Sliding Gate there are two types, single or dual slide. A single slide gate is long and will slide to the left or right. The dual slide gate has two gates meeting in the middle, and, upon opening, one slides to the left and the other slides to the right. 
Slide gates are customarily large and heavy, calling for professionals like us at Local Gate Service to ensure you or your business' Automatic sliding gate works properly and safely.
Liftmaster SL3000101UL 1 HP AC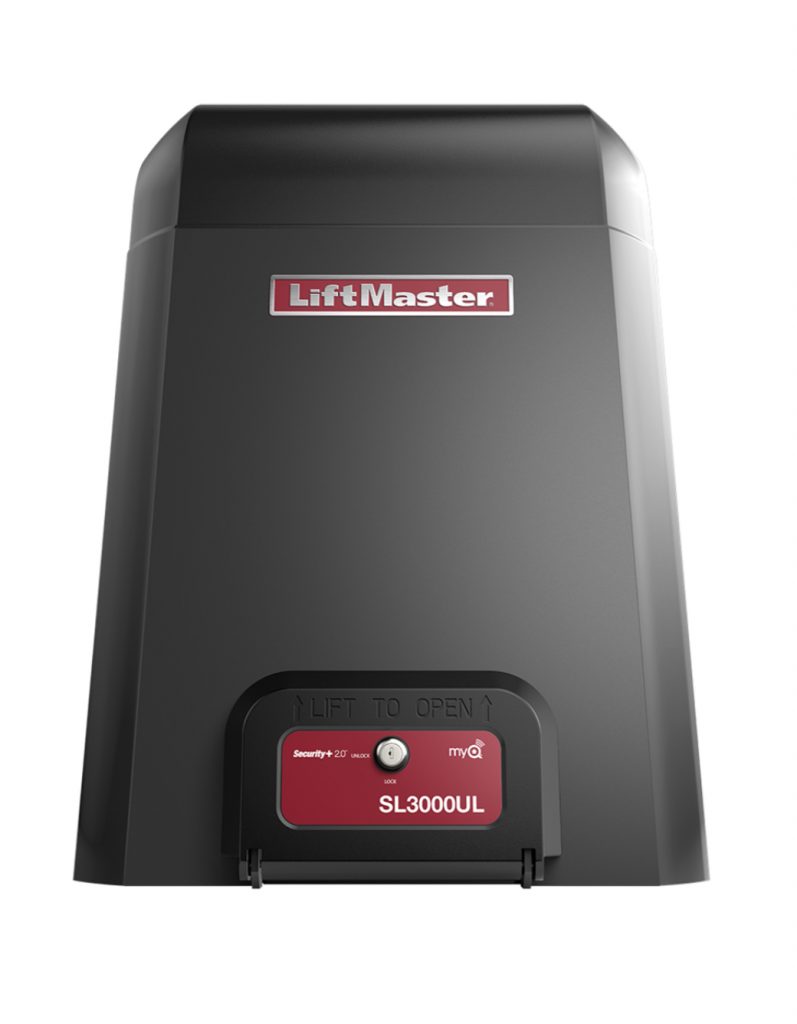 Construction: 
P3 Motor: High-temperature continuous duty motor with class H (high-temperature) insulation is rated for high-cycle, high-temperature applications

Operator Duty Rating: Continuous duty

CHASSIS: Same bolt pattern/footprint – Constructed with 1/4 in. gold zinc plated steel for rust/corrosion prevention

Worm Gear Reduction: Commercial oil bath gearboxes with 30:1 worm gear reduction

Cover: High-density UV resistant one piece polyethylene plastic for excellent heat and corrosion resistance

Operator Weight: 140 lbs

Recommended Capacities: 1 HP Rated for gates up to 37 ft. in length or weighing up to 2,000 lbs.
Limited Warranty (by Liftmaster):
5 years commercial

7 years residential  
Specifications:
POWER: 110V Single Phase

ACCESSORY POWER: 24VDC 500mA output, Switched and unswitched power

MONITORED SAFETY INPUTS:3 Main Board 3 Expansion Board

TEMPERATURE SPECIFICATIONS: Without heater:-4°F (-20°C) to 140°F (60°C)With optional heater (HTRNB):-40°F (-40°C) to 140°F (60°C)

UL USAGE AND CLASSIFICATION: I, II, III, and IV

GATE TRAVEL SPEED: 12 in. per second.
Max gate size: 37ft

Max gate weight: 2,000 lbs.

1 horsepower motor
Sl3000101 Package Includes:
1 – Sl-3000-101U 1HP Motor with control circuit board and cover
1 – Built in radio receiver
1 – Monitored safety device (Liftmaster LMRRUL photo eye)
1 – 20ft roll of #41 chain
1 – Free Liftmaster 811lm remote
1- safety edge (wireless kit not included)
Liftmaster SL-3000-101-UL 1 HP AC High Traffic Commercial Slide Gate Opener
The Liftmaster Sl300101U is a high traffic commercial slide gate opener that was built for commercial locations with a high traffic volume, but it also common to see a SL3000101U installed on a residential location that has large gates. Liftmaster Slide Gate Openers have many built in features that help raise it above other manufactures in the industry.  Its P3 motor is designed to function in the most demanding environments.  Other features include: legacy elite heavy-duty commercial gear-driven transmission. wireless dual-gate communication, manual disconnect, inherent reversing sensor, surge suppression, and quick close/anti-tailgate. The Liftmaster SL3000101U Slide Gate Opener is ideal for "larger gates in high-traffic applications such as high-volume commercial workplaces and communities". The SL3000101U high traffic commercial slide gate operator comes with a 5 year commercial, and 7 year residential warranty.
Features:
LED diagnostic display

Programmable auxiliary relays

Mechanical limit system

Pre-motion warning alarm

External alarm reset button

anti-tailgate

quick-close

Homelink Compatible

Security+ 2.0® on-board receiver
Viking H10 NX UL Next Generation Slide Gate Opener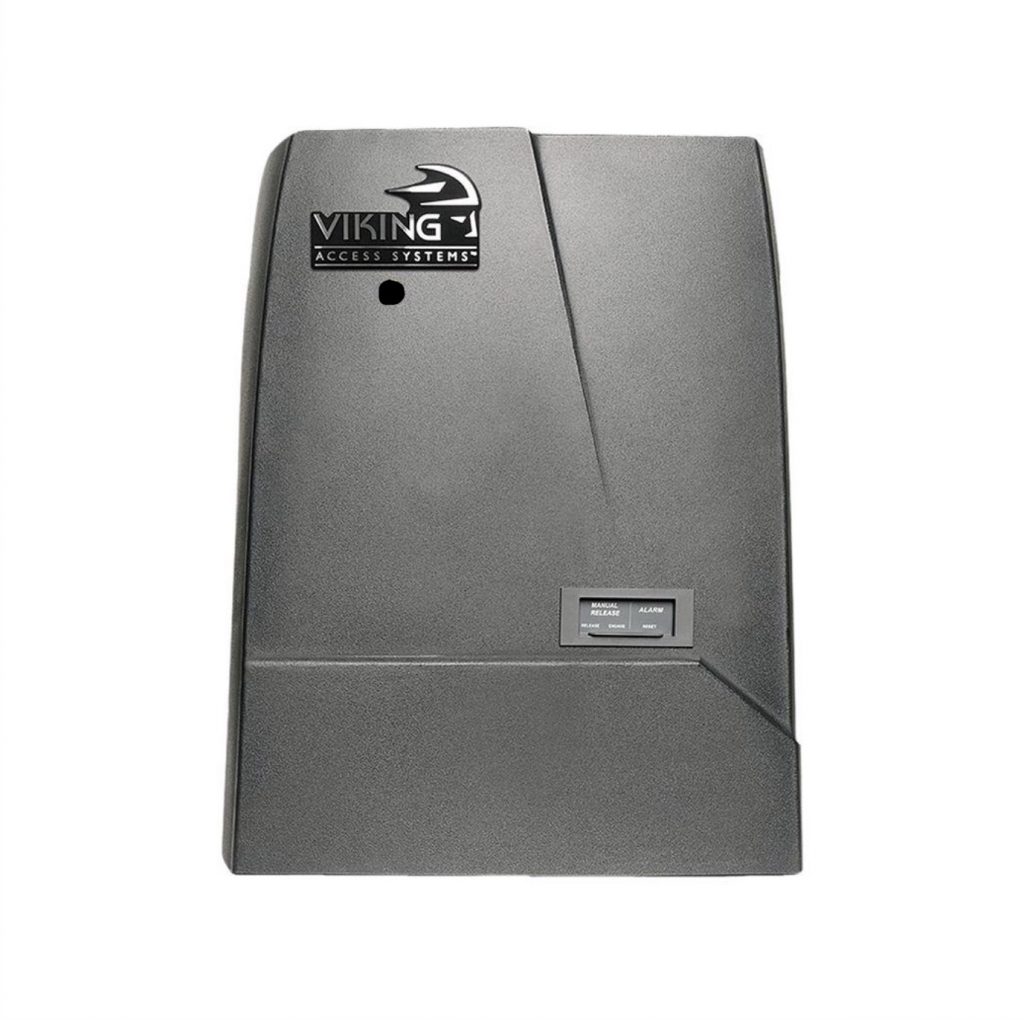 Some of the standard features include: 7 year residential and 5 year commercial warranty, UL 325 and 991 listing, innovative fine tune adjustment for the end of gate travel (down to 1/8"), back drivable unit featuring direct drive mechanism, soft-start and soft-stop with adaptive learn algorithm, easy accessed switch for manual operation, 120/220 VAC single phase power source, a built in three push button station, a built in battery backup capable of 100 cycles in case of power failure, on-board lightning protection, and easy access to limit switches.
Operational Voltage … 24 VDC with 1 HP Equivalent Motor

Main Power Source … 120 / 220 VAC Single Phase

Battery … 7 AmpHr 12 VDC x 2

Max Gate Capacity … 2000 lbs /45′

Max Operating Speed … 12″ per second

Battery Backup … 100 Full Cycles (1000 lbs. / 20' gate)

Maximum Duty Cycle … 100% Continuous Cycle

Operating Temperature … – 4° F to + 158° F
Please write your information below or give us a call anytime.
You can call us at anytime at 800-391-5122