New Automatic Electric Gates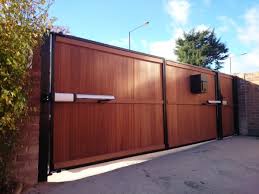 New Automatic Electric Gates
Why choose an automated electric gate? Whether looking to make your property more modern, easing the burden of getting out of the car and having to push the gate open, or increasing the security and value of your property, let the folks at Local Gate Service help you make your dream a reality.
We have been installing and maintaining electric automatic gates for over 10 years. There are many reasons to choose an electric gate. Your security and property value of your house /business will increase. It's much easier to push a button or enter a code and have the gate do all the work then to have to tire yourself to open the gate manually each time. Also, you will have control over who has access to opening your gate. If you're looking to install a new automatic electric gate on your property, you've come to the right place.
A well-designed gate that fits the style and architecture of your home/business and its property will increase the property value of your home/business.
When choosing your new gate for installation, we have many options for design and material, including
⦁ Iron and wrought iron gates (elegant, sturdy)
⦁ Wooden gates (bamboo, cedar, mahogany, pine, warm appeal)
⦁ Metal gates (aluminum gates, light weight, eco-friendly)
⦁ Bronze, brass, or copper gate (luxurious, rich aesthetic)
⦁ Glass gate (modern, panels, frosted or clear)
⦁ Steel gates, including chic stainless steel (strong, other option as a wrought iron look at lower price)
⦁ Vinyl gate (composite/PVC can be made to resemble wood, many colors, low maintenance material)
⦁ Mixed material design: wood and iron gate for example
⦁ Shape (rectangular, arched), color, and theme (French European, western, contemporary) are also considerations for your new electric gate.
⦁ Personal customizations: do you want it to have a logo or perhaps a family crest?
Our electric gates start with a steel frame and are finished in wood, metal, vinyl, steel or a combination of materials as listed above. We will install the best automatic gate suited for you or your business with considerations of weather, cost, terrain, maintenance, style, and function.
Please write your information below or give us a call anytime.
You can call us at anytime at 800-391-5122